Help me to Analyse the Performance and get to the Root cause
05-14-2014, 03:58 PM
GreenGecko
Member


Posts: 188
Joined: Jul 2012
Reputation: 10
RE: Help me to Analyse the Performance and get to the Root cause
No, a CDN will not affect TTFB, but - once again - the locality and size of pipe will affect delivery performance. Some parts of the functionality of a basic CDN aren't propaganda, but physics... speed of light and all that.
By the way, lowering the size of static resources won't change the TTFB either: the client'll still be waiting just as long for the html to be generated, then getting it delivered (along with the same number of files in parallel - as soon as it knows what others to get).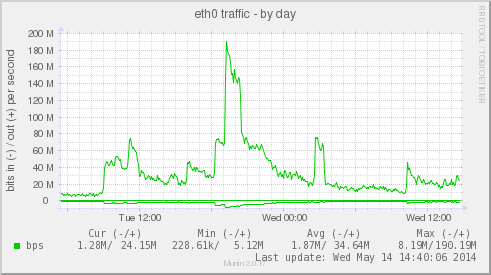 This is a graph of internet traffic: the slashdot effect... well mainly twitter in this case, but you know what I mean. Just think what that would be performing like if this server *wasn't* using a CDN. Registering nearly 200Mbit/s over a 5 minute average, and yet still delivering a hefty 3MB page (using over 200 files) to a (local!) client inside 5 seconds.
No I didn't write it, I just deliver it in a timely manner.
ngx_pagespeed is next for this site, but the resources will still be delivered via a CDN. It might slow the TTFB by the odd few MS ( and the extra admin involved is terrible with a non-technical client ), but the html will still be the same size. However, the 1.3MB/page saving to the client is where postprocessing their images is really worthwhile - 1 second off 5, rather than your 0.5 off 17 seconds.
And the improvements are above the fold, too.
User(s) browsing this thread: 1 Guest(s)